Highlights of Kate Moss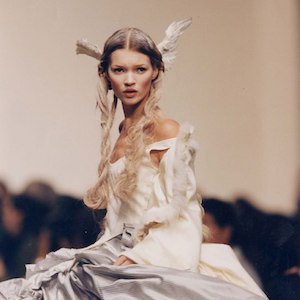 Kate Moss was born January 16, 1974 in London, England. She appeared in her first cover shot a year after she was discovered at age 14. Featured in Calvin Klein's Obsession ad campaign in 1993, she became even more famous and sought-after. During her career, she has appeared on the cover of more than 300 magazines.
Blue: Personal Life & Other Ventures
Besides being one of the world's leading models, Moss has also become famous for her tumultuous personal life. She has admitted that she began drinking and smoking marijuana at the age of twelve. She continued with her partying lifestyle as her career took off. Moss did a stint in a London clinic to fight her addiction to alcohol in 1998. Moss became headline news around the world when photographs of what looked like her doing drugs were published in a British newspaper in September 2005. She was reportedly caught snorting cocaine with her boyfriend Pete Doherty. The lead singer of the band Babyshambles, Doherty has been arrested several times on drug-related charges. Because of the scandal that followed, she lost many of her lucrative modeling contracts with such companies as the clothing retailer H&M.



guestbook
View My Guestbook
Sign My Guestbook